Joseph Seth
C.S.C.S. NSCA-CPT USA W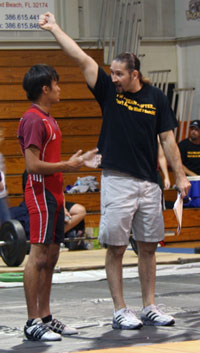 Joe is a national level coach for USA Weightlifting (USAW) and travels statewide, nationally, and internationally with his athletes. He is the head coach of Team Florida AFP, a USAW accredited weightlifting club. He began competing nationally in 2008, where he placed third at Master Nationals in the 77kg (kilogram) class. He qualified for the Pan American Games and again placed 3rd. in 2010 he won Master Nationals, and in 2011 he won American Masters. In 2012 he was awarded Best Coach in Florida as well as Best Master Lifter.
Joe persistently looks for athletes to train, with a focus on the masters lifters. His current team is comprised mainly of master lifters who have attained national and international recognition. He also specializes in youth athletes, currently training one school age and one university level athlete.
Joe's Achievements:
2014
Masters American Champion
2013
Masters American Champion

Master Nationals Silver Medalist
2012
Florida Master Champion

Florida's Best Master Lifter

Best Coach in Florida
2011
Masters American Champion

Master Nationals Silver Medalist
2010
2009
Master Nationals Silver Medalist
2008
Pan-American Masters Bronze Medalist

Master Nationals Bronze Medalist